Innov'ATM, the Toulouse-based ATM (Air Traffic Management) and UTM (UAV Traffic Management) specialist, has been chosen by the magazine Air Traffic Management to speak on how Artificial Intelligence and Machine Learning will participate in the post-COVID rebound of ATM.

Damien Brugne, in charge of the drone transport industry business unit explains that part of the solution come from artificial intelligence (AI) and machine learning (ML) algorithms and tells the way it can assist the optimisation of infrastructure.  Moreover, according to him, AI can be placed at the service of UTM, C-UAS and collaborative decision-making.
Here are some excerpts from the article :

"Before the actual health crisis, the global air traffic doubled the number of passengers every 15 years on average.
This strong growth of the traffic had to be sustained while respecting many constraints such as the tightening of environmental and social standards or even the growing coexistence between manned and unmanned aviation."
[…]
"The new challenges facing the aviation sector have pushed the aviation industry – and more specifically, ATM (Air Traffic Management) – to refine its methods of working, reinvent business models, optimise costs and reconsider the importance of the carbon footprint reduction, all while keeping the highest levels of safety a priority. This raises a number of key questions…"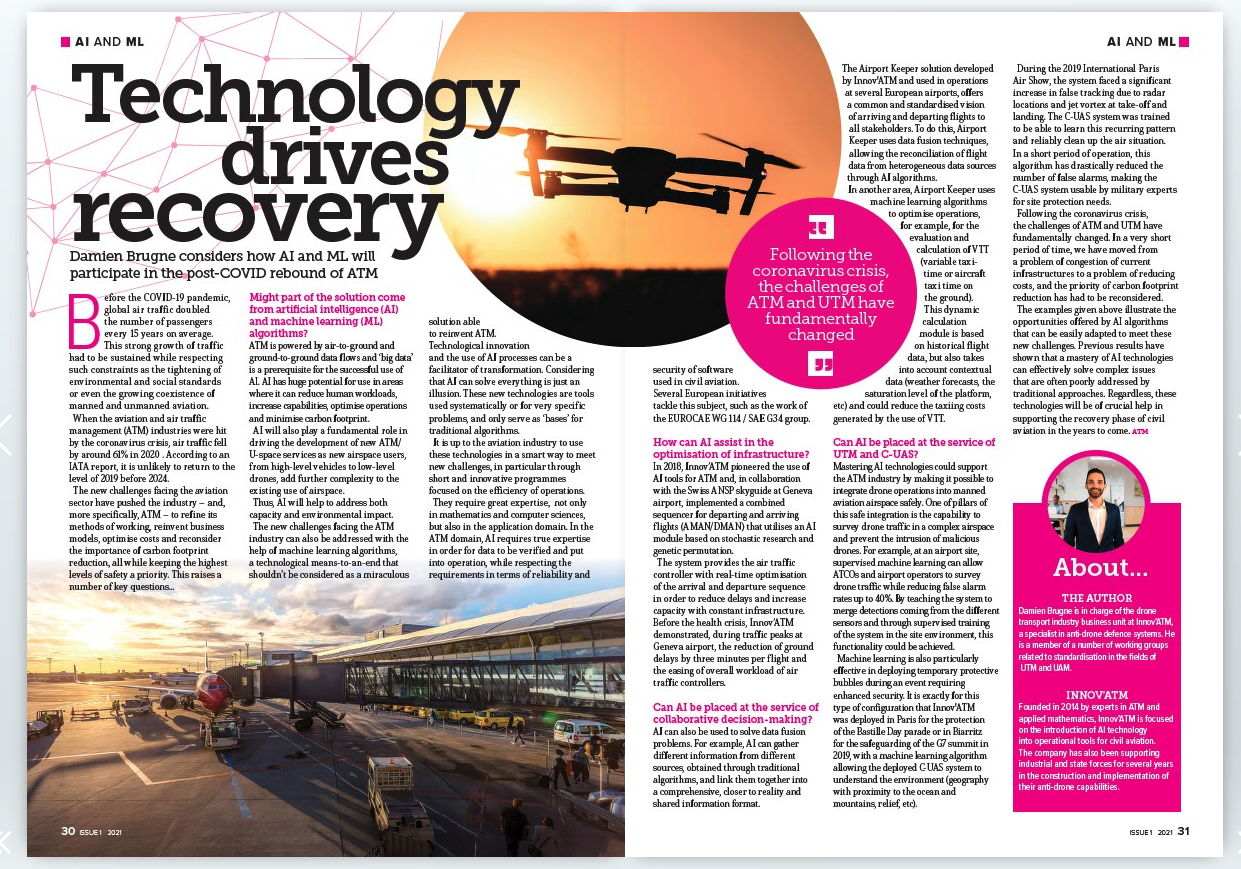 […]
"Artificial Intelligence will help to address both capacity and environmental impact. The new challenges of ATM (Air Traffic Management) industry can also be addressed with the help of machine learning algorithms, a technological means-to-an-end that shouldn't be considered as miraculous solution able to reinvent ATM (Air Traffic Management)"
[…]
"In 2018, Innov'ATM pioneered the use of Artificial Intelligence tools for ATM (Air Traffic Management) and, in collaboration with the Swiss ANSP SkyGuide at Geneva airport, implemented a combined sequencer for departing and arriving flights (AMAN/DMAN) that utilises an Artificial Intelligence module based on stochastic research and genetic permutation.
The system provides the air traffic controller with real-time optimisation of the arrival and departure sequence in order to reduce delays and increase capacity with constant infrastructure."
[…]
"Artificial Intelligence can also be used to solve data fusion problems. For example, AI can gather different information from different sources, obtained through traditional algorithms, and link them together into a comprehensive, closer to reality and shared information format.
The Airport Keeper solution developed by Innov'ATM and used in operations at several European airports, offers a common and standardized vision of arriving and departing flights to all stakeholders. To do this, Airport Keeper uses data fusion techniques, allowing the reconciliation of flight data, from heterogeneous data sources through AI algorithms.
In another area, Airport Keeper uses machine learning algorithms to optimise operations, for example, for the evaluation and calculation of VTT (Variable Taxi-Time: aircraft taxi time on the ground) […] and could reduce the taxiing costs generated by the use of VTT."
To know more about: https://www.innov-atm.com/2020/06/23/episode-1-ground-holding-time
[…]
"Mastering AI technologies could support the ATM industry by marking it possible to integrate drone operations into manned aviation airspace safely.
One of pillars of this safe integration is the capability to survey drone traffic, in a complex airspace and prevent the intrusion of malicious drones."
[…]
"Machine learning is also particularly effective in deploying temporary protective bubbles during an event requiring enhanced security. It is exactly for this type of configuration that Innov'ATM was deployed in Paris for the protection of the Bastille Day parade or in Biarritz for the safeguarding of the G7 in 2019, with a machine learning algorithm allowing the deployed C-UAS system to understand the environment (geography with proximity to the ocean and mountains, relief, etc.)."
"The examples given above illustrate the opportunities offered by Artificial Intelligence algorithms that can be easily adapted to meet these new challenges. Previous results have shown that a mastery of Artificial Intelligence technologies can effectively solve complex issues that are often poorly addressed by traditional approaches. Regardless, these technologies will be of crucial help in supporting the recovery phase of civil aviation in the years to come."
To see the entire article : https://content.keypublishing.com/central/view_ad_issue.asp?iss=8745-936353-4690-253929