Your Airspace is bigger than you think
Enabling Air Navigation Service Providers to manage the flow of arriving, departing and taxing aircrafts to optimize the use of available Air Traffic Management (ATM) resources, such as runways and airspace. To achieve this goal, SkyKeeper® uses Artificial Intelligence and Machine Learning in any runway configuration and multi-airport environments to accommodate and maximize capacity keeping high safety levels.
Increase predictability, reduce delays, maximize capacity.
Arrival Manager, Departure Manager and Surface Manager (AMAN-DMAN-SMAN) are sequencing tools leveraging on advanced trajectory predictions to optimize runway throughput. It enables ATCOs to improve their situational awareness and to anticipate flow of traffic. In mixed mode runway configuration, the coupled AMAN-DMAN allows for optimization of the arrival and departure sequence.
Daniela Steiner
skyguide
"The solution provided ATCOs with a dynamic tool to permit a constant and precise use of the full RWY capacity by optimizing the sequence of traffic flows (ARR and DEP) using AI algorithms."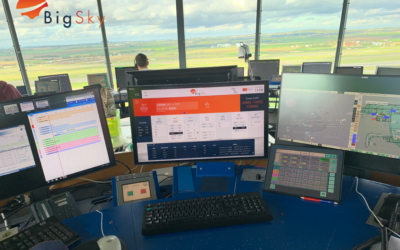 What BigSky is offering to Charles De Gaulle...
read more
Get in touch with the team
Whether you have a question about features, trials, pricing, need a demo, or anything else, our team is ready to answer all your questions.